Pirate Diffusion turns one
To be honest, we weren't sure if anyone was going to show up, but we're so happy that you all did. We've met so many great creators and it's a joy to see all of your images everyday. There are too many people we want to thank to name, so let's get straight to the drinking. We are celebrating our birthday with a massive list of new features, including a major new product release.
Here's a hint:

CORE FIXES
It's not your imagination, Pirate Diffusion is now much faster.
We've upgraded servers, database, and optimized a lot of little things to bring you features like faster infinite scrolling in your archives page and a punchier bot response. Just look at these sexy stats! We have more improvements on the way to bring you even faster service. These upgrades were made possible by our loyal supporters, thank you so much!
POLLY GPT
Polly is our brand new, hyper smart Large Language Model. It's also a drunken pirate parrot with a fowl mouth. It can tell jokes, use Stable Diffusion commands, help you come up with new prompt keywords, and render images. Polly is only open to our Patrons at this time, and appears on the new menu bar next to Render. Polly goes live today!
To access the Polly beta, first login to your account. Pro 15GB members are invited for a limited time, and Plus 30GB members have unrestricted access.
To use it in Telegram, just type /polly like this:
Please note that this is a very early release, and not reflective of the final speed/quality. Polly is the first agent you'll meet in our cast of many characters. When our LLM technologies are ready for primetime, you'll be able to create your own characters and train them, too. Way cool.
WEB UI 2.0 IS COMING
Your personal Stable Diffusion Web UI is currently called your community, which some people found confusing, as most use it solo. We are fixing this by calling things "projects" and the website is "my stable diffusion" so it's easier to explain. So we are introducing two new logos:
Your WebUI will soon be called Stable2go, as in Stable Diffusion on the go.

We're also going to split the tutorials section so WebUI and Telegram tutorials are on separate pages, so our videos and lessons don't try to cram both in one place.
MORE STORAGE
Graydient Cloud Drive also has a new logo, and now comes in 50GB variants! We've upgraded all 30GB accounts to 50GB for free, you're welcome!
AVATAR ON DEMAND
Render an image, and set it as your avatar
It's much easier to tell when you're logged in now — just glance at your avatar.
Want a fresh look? Any of your images can be used to set the avatar, like this: You can also set any rendered image as your avatar from either WebUI or Telegram.
It also works within Telegram, just use the new /avatar command.
FASTER WEBUI RENDER
Progressive rendering is here!
Before, it waited to receive all of the images. Now it displays them one by one as they render. No more waiting for the whole batch — they pop in one by one. This is trickier to do in Telegram, but we'll eventually bring it to Telegram as well.
Now images appear one by one, instead of waiting for whole set.
SEND A RENDER TO TELEGRAM
The render details pane has two new buttons: avatar and send to telegram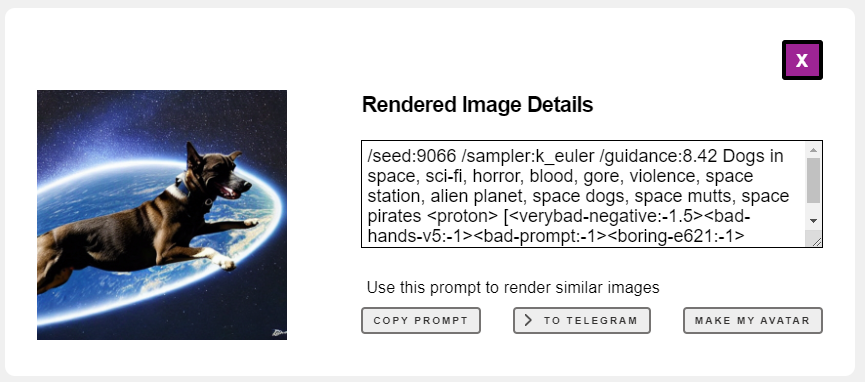 This button puts a short code in your clipboard that will teleport the image to Telegram, so you can start in WebUI and continue in Telegram. It looks like this:
Paste that into your bot, and it zaps it there. How neat is that?
Remember, you also have the reverse workflow available to you. Any image you create in Telegram will appear in your Web UI's Archive section, just type /webui in Telegram to find it.
---
IMAGE HISTORY
A new graphed Image Evolution family tree
After an image is modified, the evolution link appears at the bottom of the page.
This gives you a visual journey across the current branch of forked changes, and lets you track back to an old idea easily.
We've also split the Remix Too into positive and negative prompts, and it contains aspect ratio, guidance presets, steps, and image count.
---
FACELIFT MODES
WebUI Facelift has caught up to Telegram: You can now choose between anime/illustration, face retouch, or general AI upscale. The "Regular photo" mode will upscale the image without changing the facial details, and the anime mode will boost any kind of digital drawing. Improve face is trained on realistic faces, so that won't work well on illustrations. Use the "anime" mode for your art.
You can also add additional commands before it runs, such as overriding the sampler.
---
INPAINT UPGRADES
Three new features:
No need to redraw masks:
A new radial button for "previous" remembers previous masks within last 7 renders
You can now upload images directly into inpaint (top right)
You can download your favorite masks and reupload them.
Note: It works best when both images and the mask are the exact same size.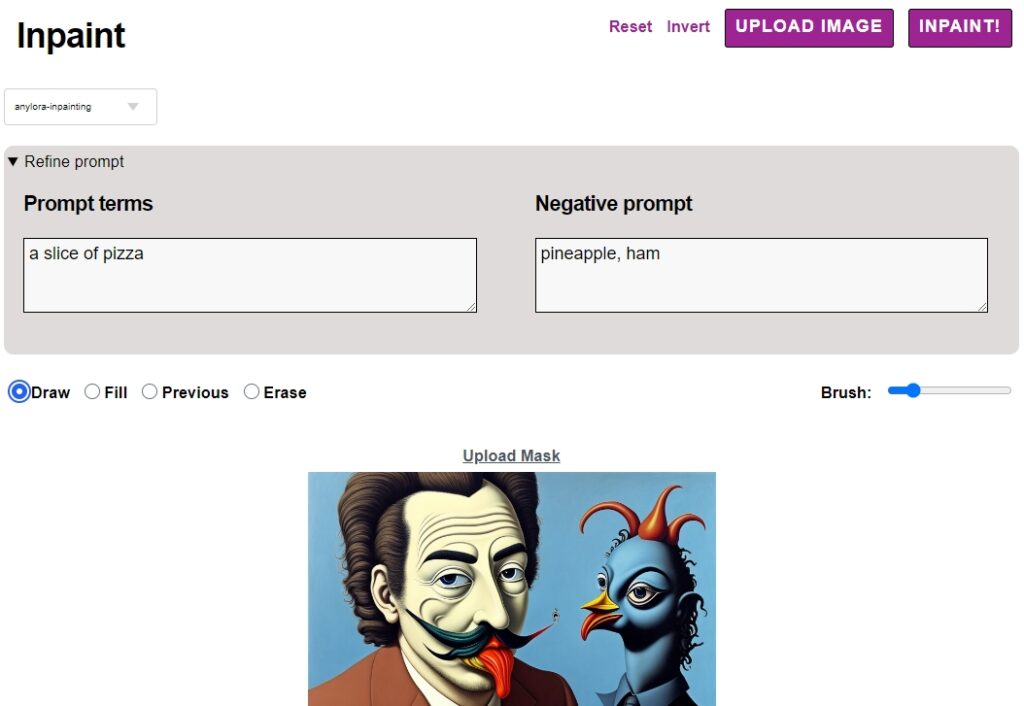 Expanded Tools Menu
We've added more tools like /highdef and /more options in WebUI, when you're looking at a Render.
These are rolling out slowly this week, look for more button options soon. No ControlNet over WebUI yet, but that's clearly next. You can use 8 modes of ControlNet via Telegram though, with unlimited presets. And Roop-style FaceSwap! We're also testing two more face-swapping commands right now, they'll be in the next update. More superpowers coming.
FAVORITE MODELS
In case you missed it, last week we rolled out the ability to favorite your top concepts. Just login and click the heart button. It also works in Telegram, as shown below:
IN-BOT MODEL SEARCH
You can now search AI models with this command right within Telegram.
The command is /concepts /search: followed by your keywords, like this: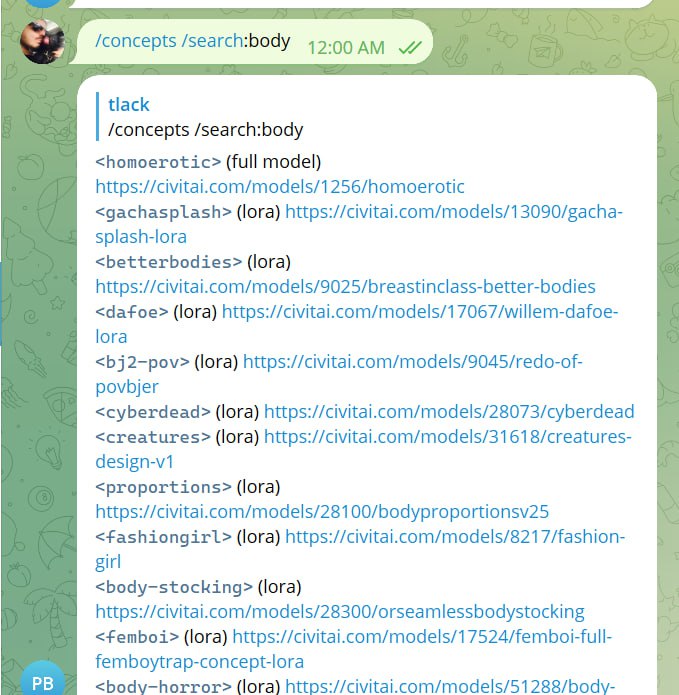 It looks at our short lora nicknames as well as the full title and creator of the model, so it will help you find those obscure ones.
SDXL READY
In preparation for SDXL, which is unfortunately not backwards compatible with SD 1.5 LoRAs and Textual Inversions, the software now has awareness of Families of Stable Diffusion models.
We'll save you some grief instead of showing you a crazy error and catch these mismatched conditions.
THREE NEW RECIPES
Recipes are prompt templates created by the community, which you can add to your prompt like a cheat code to summon powerful effects. These three new recipes only include negative textual inversions, so they're really good short cheat codes for boosting image quality fast. Here's what they do, in order of intensity
#boost – adds very bad negative and a few mild fixer-upper keywords

#nfix – adds three powerful negative TIs and upscales images to 1200×1200 (pro users only)

#everythingbad – includes over 10 negative TIs, it's the nuclear option
Try them out today! Add one them to the very start of your prompt for best results. If no base model is selected, it will default to the very excellent <photon> V1. And speaking of models:
MORE MODELS
And of course, we've updated our models and have added a ton of content.
Follow our Announcements channel for updates. See you in the groups!
-Captain Freeman & Tlack305