Fast Stable Diffusion classic, SDXL + API. Create AI images on any device, even your old phone


Unlimited Render - 7-day Risk Free Trial
- Satisfaction Guaranteed
PC, Mac, iOS & Android OK
Unlimited use, no credits B.S.
Upload & Edit your own photos
Txt2img, Img2img, Pix2Pix
Inpainting, Outpainting
ControlNet, 7 modes

1-click AI background remover

HiResFix, Samplers, Recipes
Unlimited FaceSwap (roop)
Upscaling, 4 modes
30GB cloud drive
3000 Loras & Embeddings
Community Recipes

NSFW content OK

Create Privately or Socially

DIY Macros & Loadouts
Fast on
every

kind of device - No GPU needed. All your models, prompts, macros, and art on the cloud


Create instantly on any browser:
GUARANTEED TO WOW
You'll be amazed by your own AI creations, even if you've never made art in your life. Your membership comes with live chat support, detailed guides, and your satisfaction is guaranteed.
FAST ON ALL OF YOUR DEVICES
Switch seamlessly from any brand phone or PC with no delay, no setup, no storage, no GPU. It's all on our compute cloud. Snap a photo and remix it with 100's of AI models & unique styles made by our community.
CREATOR FRIENDLY LICENSE
Yes, you may use your AI creations commercially, as well as share it on social media, books, games, and anything else you create. We stand firmly behind our product: Try it risk-free for a whole week. If you're not absolutely blown away by then, we'll give you a full refund. There's no fine print, we want to be the best and value your feedback. Take your time, use our vip chat, and come hang. If you dig it, we'll send you new videos, free every week, to teach you more.
Includes both Web Browser or Telegram Chat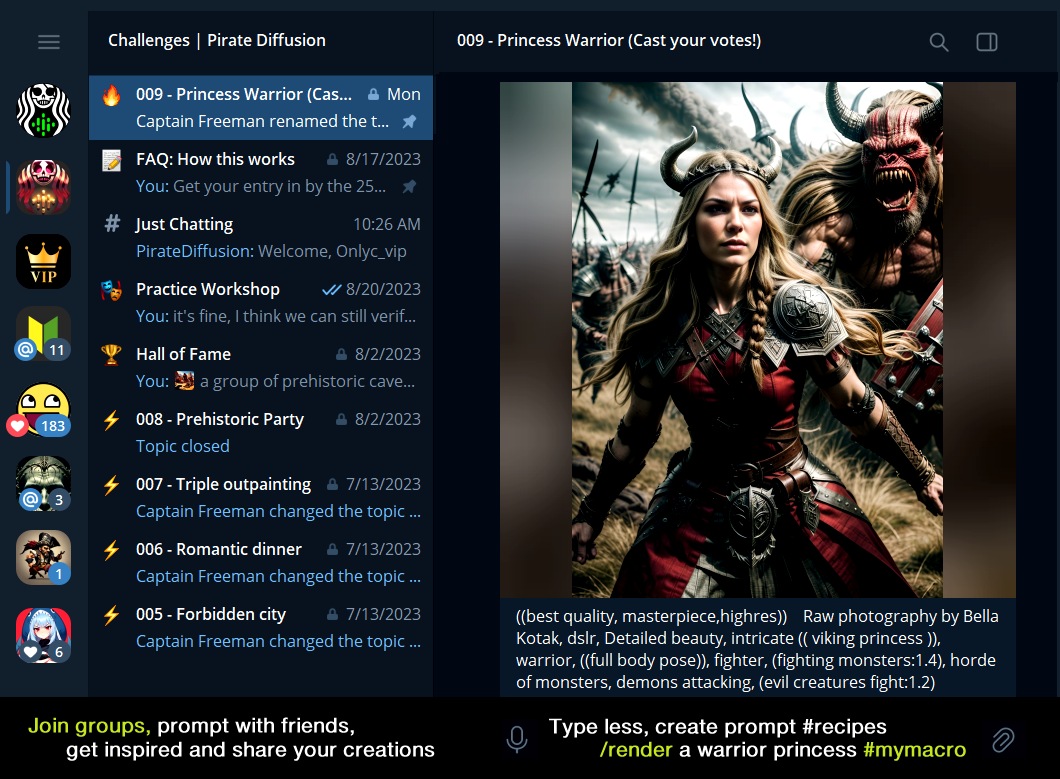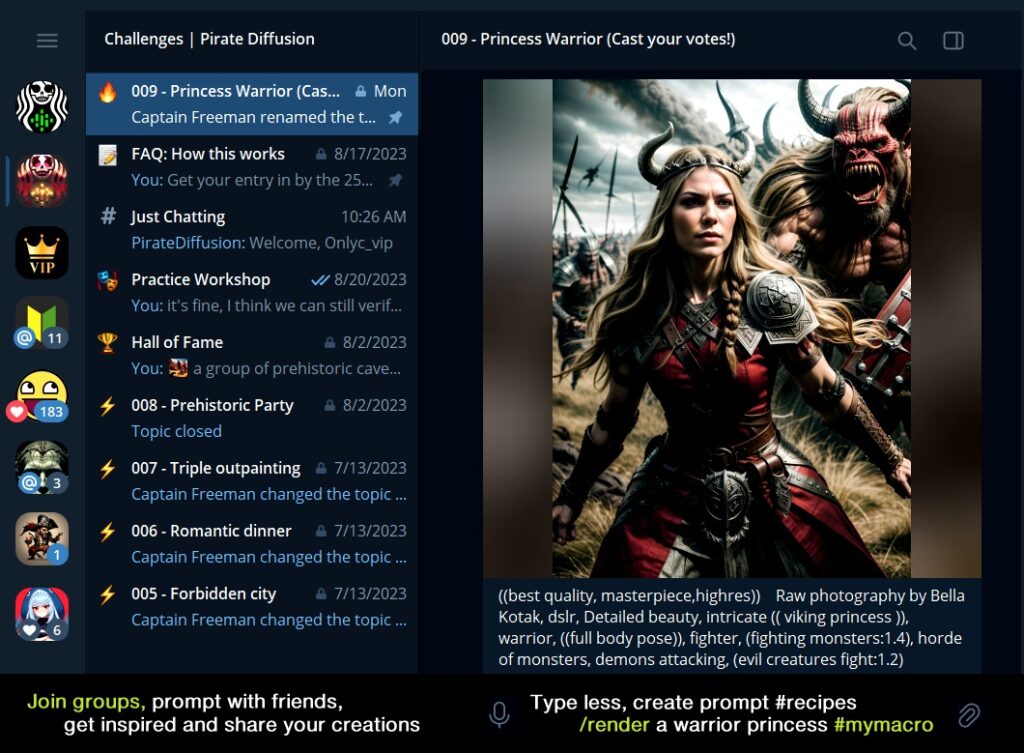 SDXL is here - Stable Diffusion XL included! Batch create images with many powerful AI tools
Create privately or get inspiration and prompt ideas from many kinds of groups - live chats everyday
CUSTOMIZABLE, ENDLESS FUN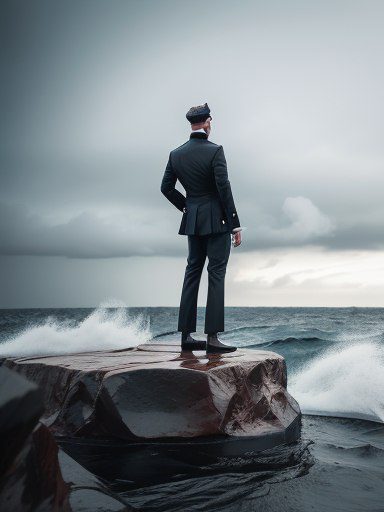 There are other AI art apps, and they're fine. We wanted a better one that works on all phones, with much more freedom to create.
Why creators choose us:
7-day risk free trial
Convenient web use
Thousands of Models
No installs 
Fast on *any* device
Syncs phone & pc
Creator friendly
 Royalty free
Live chat, fun groups

VIP support is top-notch
Frequently Asked Questions
Q: I'm not a techie or a coder, can I do this?
Everyone can do it. Just type your idea. Put an idea into your mind, and describe that image as vividly as possible. Anyone can do it. There's a lot more you can do when you learn all the commands. You can put as little or as much into it as you want, you'll be making images in seconds.  We provide easy to use prompt recipe templates for WYSIWYG creation, or dig deeper into the technical prompt engineering.  It's up to you.
Example: Just type "An anime goat using three ipads" and choose an anime style, and there it goes. Easy does it.
 Q: Can other people see my pictures?
Only if you want them to. Your bot is a private creation space away from others. Your web gallery is off by default and optional. There are separate rooms that you can join and leave as you please, where you can share your work. You can also enable a web gallery and send the link to friends. We do recommend taking a peek for inspiration, sharing ideas, and sheer entertainment. We have an incredible community that runs challenges, shares prompts, and discusses AI at large. There are also groups in different languages, and you can start your own.
Q: Pirate Diffusion, as in Piracy?
Stable Diffusion is actually free, there's no piracy going on here. But it takes a very powerful computer to use it quickly, and setting it up to do things easily requires a highly technical person.  
Pirate Diffusion is the name of our subreddit and chat group. We're an AI art community. The software is actually called Graydient, so you won't see any "pirates" on your credit card receipt. Pirate Diffusion's chat bot is a part of Graydient AI Cloud, the (very legit) stable diffusion cloud computing company, and the creators of Anime Maker AI, too.
We know the "Pirate Diffusion" name raises an eyebrow, and that's the point. We're going for a dive bar atmosphere here, casual, funny. We don't take ourselves too seriously and it's a really chill community to render and meet other AI enthusiasts. Our community has created literally millions of pictures since we launched, so it would be insane to change the name now. Render-Ahoy!

It takes an idiot to do cool things. That's why it's cool. – FLCL
Q: What about adult content?
It's your own private server, so you can make whatever you want in your private space. There are also groups within the Graydient network that offer that. That said, with the exception of a few adult rooms, the largest groups are SFW. There's a lot of people making provocative art in various styles; we'll help you find your people. That's important in life. We do not allow children on the platform.
Q: Does this include Stable Diffusion, NSFW Dalle, Anime Maker, Queer Diffusion, PlayRoom, and the other Telegram bots like DadBot, BroBot, etc?
Yes, it's a full access pass plus storage space to render on the go, plus access to all of our amazing communities, and the millions of images and prompts created in those groups
Q: What kinds of things are forbidden?
We are a product for your entertainment, so we don't try to get in your way much. We're not going to ban you for creating thicc content, but we do draw the line at hate speech, using people's photos without permission, and underage content, graphic violence or other kinds of art created for the purpose of fake news and misinformation. Beyond that, do your thing in your private bot. It's your server, your rules. But please do follow the laws of your country, as we have zero tolerance for illegal activities. Don't sign up to sell naked photos of celebrities on ebay, etc. Be cool.
Q: What tech runs this?
It's a combination of Stable Diffusion, our proprietary machine learning, and hundreds of community models. Stable Diffusion XL, 1.5 and 2.1 and thousands of community models. There's a lot more built on top of it, like your personal cloud drive to sync between devices, and a web gallery for you as well.
Our hardware is also legit!  We own RTX A6000s, 4090s, and 3090s on multiple servers as well as redundant backups on remote hosting, each server with 8-12 CPU cores.
Q: How long do images take to generate?
When you brew an idea, we send back five different images back. This takes between 24 to 300 seconds, so it's about as fast as a brand new $3000 computer, at a tiny fraction of the price, and zero tech headaches.
Q: Who are the non-AI, meat-and-bones humanoids behind this?
Graydient co-founders Captain Freeman and Tlack founded and built websites like Destructoid, Upcomer, and Classic dot com. This is not our first rodeo, and take great pride and care of our community. We built it with our own money, because we couldn't quite find anything like it.
Q: What's your refund policy?
We're really proud of our products and stand behind them. Try it risk-free for 7 days and if it's not for you, we're happy to provide a full refund. There's no fine print. Sign up today, and start prompting differently – Satisfaction Guaranteed.